Easy handling, compact design, fast and high-quality engravings: This is what distinguishes our DirectPoser Laser Flexo. With either fiber laser or C02 technology with multi-beam technology, the machine is suitable for dry offset engraving or label printing as well as 3D engraving and packaging printing of EPDM plates, sleeves and cylinders. 100 L/cm can be realized with up to 5,080 dpi.
Undercut, variable shoulder settings, the intelligent Easy Template software, a user-friendly interface and many other software tools simplify the handling of the machine. Individual requirements, such as the integration of the respective national language into the control panel, can also be implemented. The production of our hard- and software is possible in our factory in Germany.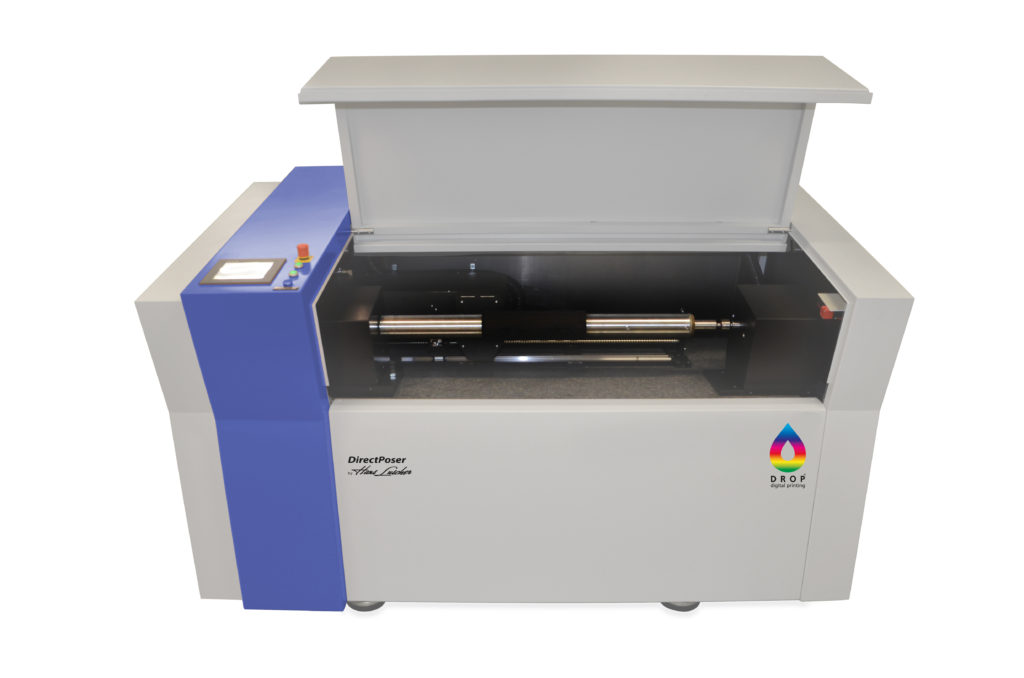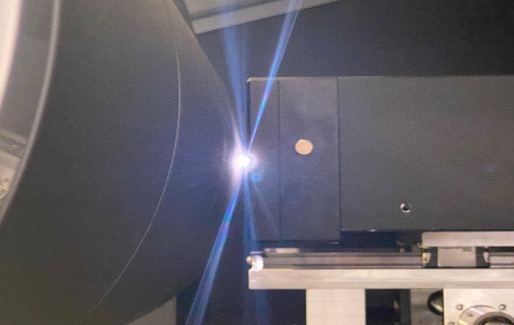 The DirectPoser Flexo Pharmacy has been developed for the application of printing on aluminum foils. Special printing machines are used in the market for this purpose, which fix the printing plate by holes of perforations on the sides of the printing plates.
We have taken over this application for the engraving machine, so that a fast mounting and a perfectly positioned engraving can be carried out.
With 5.080dpi and 1.000 Watt laser power the plates are engraved according to customer specific configuration.
We will customize the cylinder to your needs.
Cost-effective printing plates can also be purchased pre-made from us.
With a Swiss packaging printer, a 4.0 software adaptation of the DirecPoser Laser 800 was incorporated into the workflow of this innovative company. This opens up new avenues in packaging printing.
A combination of conventional engraving in the form of sleeves, but also plate engraving.
The plates can be glued or fixed using the Twin-Lock system.
Highest engraving results that make the customer's polymer production superfluous.
We have modified and adapted our DirectPoser system to the customer's work flow especially for can printing. The DirectPoser 2pieceCan engraving machine for flexo plates is characterised by an innovative template system, simple handling and stable engraving results with the finest engravings.
Advantages
Specification
Support
Advantages
high resolution with up to 5.080 dpi
fast engraving times
easy handling and maintenance
high flexibility thanks to adapters for sleeves, cylinders and plates
Consistent quality at every production site
Process optimization (data – engraving – cleaning – printing)
Very easy to handle and much less working steps. (Polymer need 12 steps, EPDM 4 steps, please see attachment)
Less production space needed
Very good system for smaller printers  (Less than 1.500m² of material)
No need to switch to another ink system or manufacturer
EPDM material has a benefit to polymer in long run printing
Real seamless engraving possible, very important for some customers
Smallest font 1pt in positive + negative
100 lines / cm with 5.080 dpi
Finest line 0.01mm in highlights and depths
Manual or automatic washing with pure water
Specification
Support